Assalamu'alaikum warahmatullahi wabarakatuh, to our beloved sister. Today's topic is very important and emotional, and it's all about Dua For Successful Early And Safe Pregnancy.
We ensure that you will find many duas and wazifa on the proper Halal method for your safe pregnancy in this article, which you won't see on any other website. 
Hence, please read this article correctly and do not skip any part for better understanding. 
Some of the essential news in life is that first job, that first promotion, and that first news of pregnancy. Nothing can beat that feeling. It's supposed to be one of the best feelings in the world.
It just knows that you will welcome a human being, no less. It can bring along a mix of emotions. But, you know, there is a "dua for successful pregnancy,", which will help you.
"Consult with them about matters." (3:159)
Often, some women are fearful of miscarriage during their pregnancy or not getting pregnant in the first place. But don't worry; this dua can guide you well for a successful pregnancy.
There is always a possibility of certain complications that can further strengthen
That fear of the unknown Are you also a woman who wants to get pregnant and wishes for a successful pregnancy?
If yes, you need to perform this Islamic Dua For Successful Pregnancy to make things easy for yourself: your family, and your baby, who might soon be on to your family.
Follow Some Guidance Before You Start This Dua:
Please wait until the menstrual cycle is over before performing dua

.

Always pray to Allah and pray 

5 Times

, namaaz.

Use 

Misbaha or Tasbeeh

 while performing these duas or wazifas.

Perform this dua in a 

supine

 position. "You whisper on the earth, heard in heaven."

Don't eat haram, don't do haram things, and fear Allah SWT 

"Taqwa"

 while performing these duas. "O you who have to believe, Fear Allah and be with those who are true." 

(9:19)

Don't

 

expose nudity 

(Awrah)

 while doing dua.

When you complete your dua, say, 

"Sami Allahu liman hamidah."

Have patience and full faith in Almighty Allah SWT while performing dua. 

"Allah is with those who have patience." Quran 2:153
Powerful Dua For Successful Early And Safe Pregnancy
If you want a successful early and safe pregnancy, recite "Rabbi hab lee minas saaliheen." Make This dua is in utter faith in almighty Allah swt. Remember to see the method for performing this dua below for good results.
Reference And Meaning
This dua is taken from Surah As-Saffat verse no.100 and here is the MEANING of this Dua: "My Lord, grant me [a child] from among the righteous."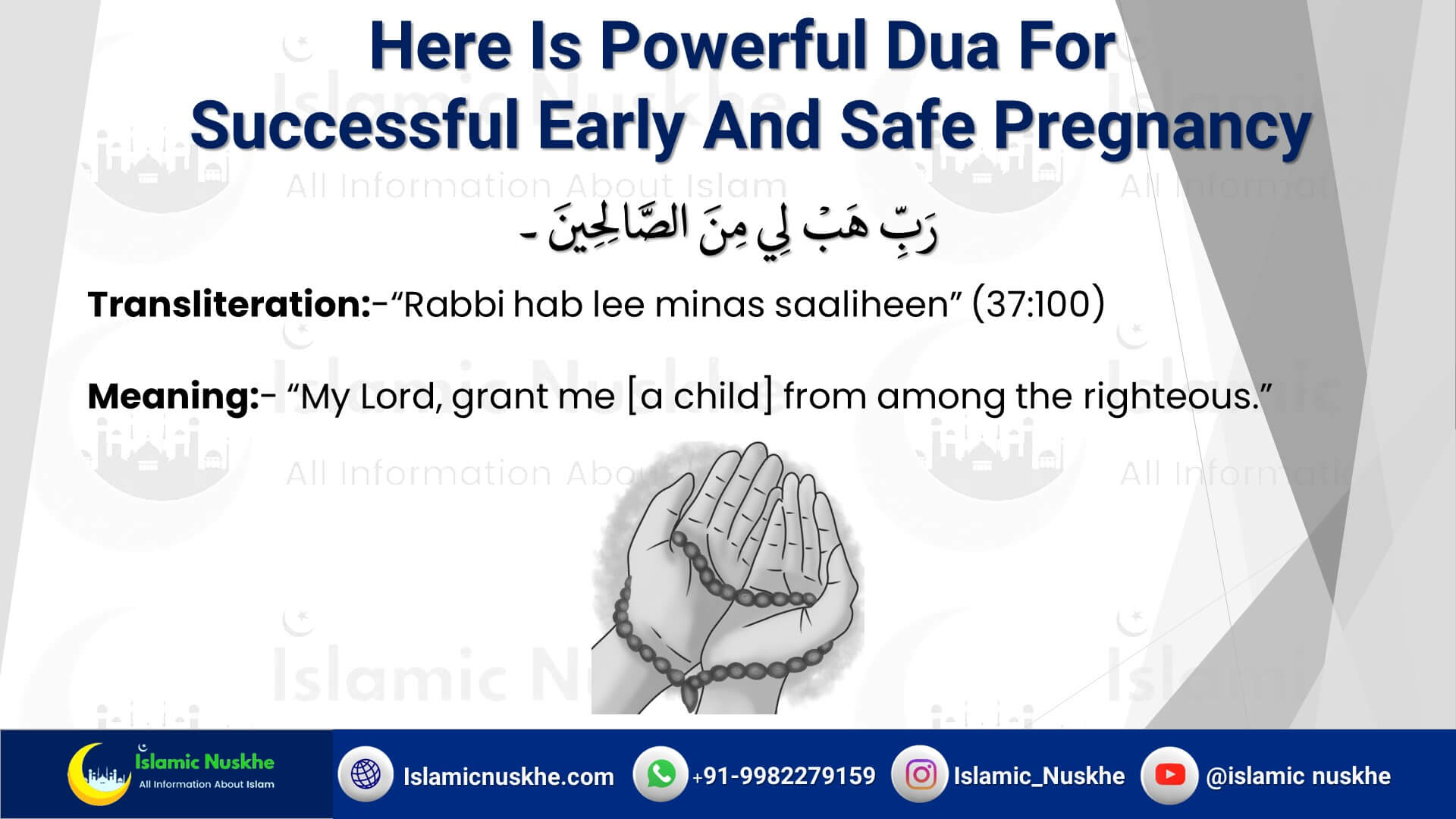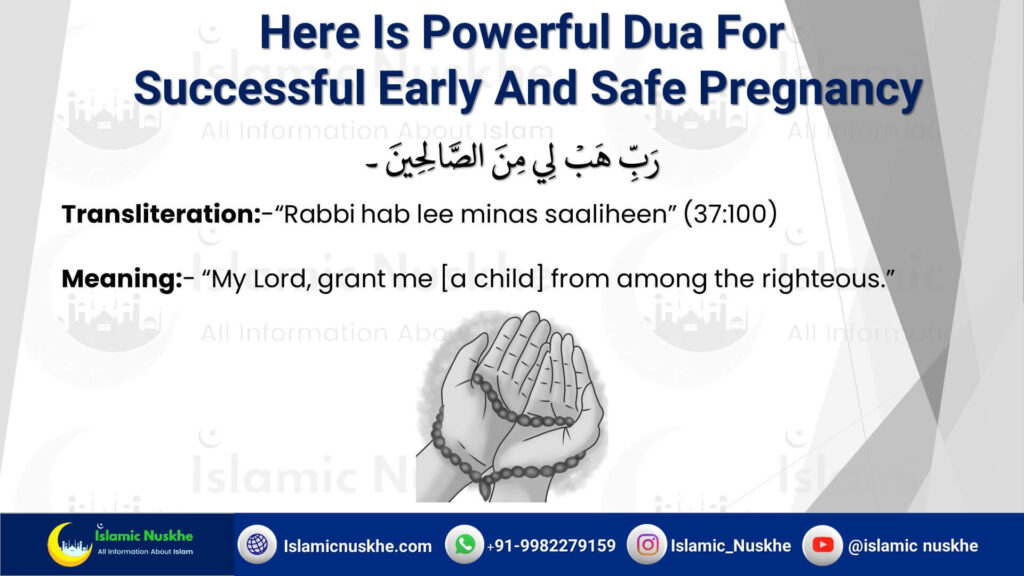 Steps to Perform Dua For Successful Early And Safe Pregnancy: 
Before any Salah, perform Wudu
Read Durood Shareef 11 times.
Perform Istighfar.
After that, recite Surah As-Saffat verse No. 100 324 times.
Finally, pray to Allah (SWT) for your safety and early pregnancy.
Follow this ritual or wazifa for 12 days regularly, InshaAllah; you will see positive outcomes soon.
If you want quick and effective results in a short time or need any help, then you can also consult with our Molana Ashif Ali Khan on the WhatsApp.
Dua To Get Pregnant
The most effective dua to get pregnant is: "Wa Zakariyyaaa iz naadaa Rabbahoo Rabbi laa tazarnee fardanw wa Anta khairul waariseen." This dua is one of the powerful prayers in the Holy Quran; if you recite it with a true heart and complete faith in Allah, you will soon become pregnant.
Reference And Meaning
This dua is taken from Surah Al-Anbya Verse no.89 and here is the MEANING of this Dua: "And [mention] Zechariah, when he called to his Lord, "My Lord, do not leave me alone [with no heir], while you are the best of inheritors."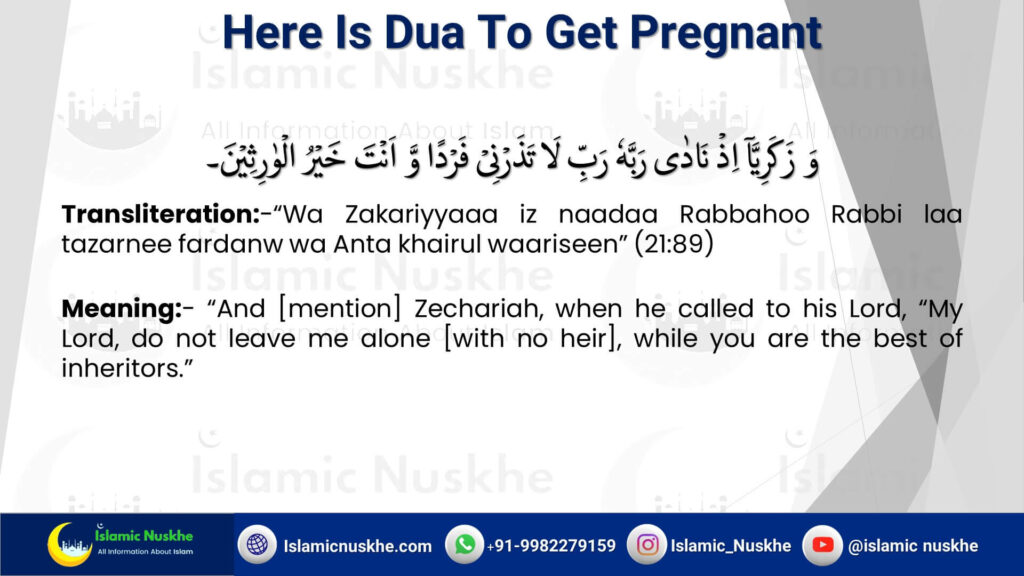 Niyyah (Intention that why you are performing Dua)
"AS-SALAM", you are the provider of peace. "AL-AZEEZ", you are the only one worthy of worship.
Today I am performing this dua during my pregnancy to a Get Healthy Baby without any obstacles.
"AL-JALEEL", by taking your name, all of my issues got resolved with your grace."
"AD-DHARR", make my way easier with your blessing so I can give birth to another life and become a good mother.
Life is a bundle of happiness and many problems but doesn't worry; you want to solve these problems so you can recite Solve Your All Problem By Reciting "Ya Hayyu ya Qayyum."
Wazifa For a Healthy Baby During Pregnancy
If you want a healthy baby during your pregnancy, then recite this dua daily after every salah: "Wallazeena yaqooloona Rabbanaa hab lanaa min azwaajinaa wa zurriyaatinaa qurrata a'yuninw waj 'alnaa lilmuttaqeena Imaamaa" for 342 times and follow the method given below for better outcomes. 
Reference And Meaning
This dua is taken from Surah Al-Furqan verse no.74 and here is the meaning of this supplication: "Our Lord, grant us from among our offspring comfort to our eyes and make us an example for the righteous."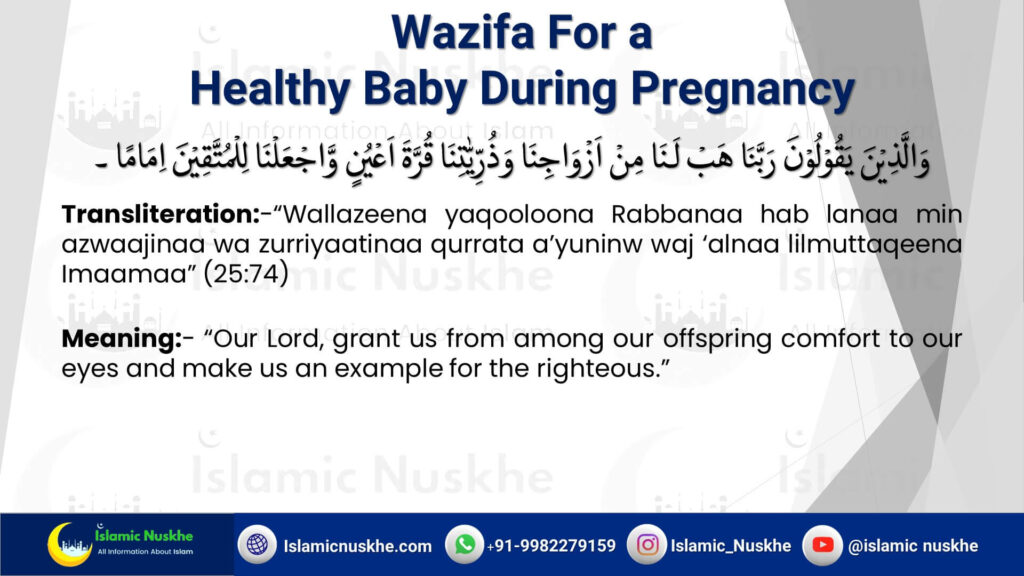 Method To Perform Wazifa For a Healthy Baby During Pregnancy:
Start cleaning yourself (wuzu)
say, "Bismillah Rahman Rahim." 100 times.
After that, read Darood Sharif in the early morning, facing Qibla.
Now, take a white paper and write Surah Al-Furqan verse no.74.
Finally, blow on the paper, take it under your pillow, and sleep with it for 21 days.
Hadith Regarding Pregnancy
Narrated Asma: She conceived `Abdullah bin Az-Zubair. She added, "I migrated to Medina while I was at full term of Pregnancy and alighted at Quba, where I gave birth to him.

Then I brought him to the Prophet (ﷺ) and put him in his lap. The Prophet (ﷺ) asked for a date, chewed it, and put some of its juice in the child's mouth.

So, the first thing that entered the child's stomach was the saliva of Allah's Messenger (ﷺ)

Then the Prophet rubbed the child's palate with a date and invoked Allah's Blessings on him, and he was the first child born amongst the Emigrants in the Islamic Land (i.e. Medina).

Sahih al-Bukhari 3909
Some Important Things You should know about Safely Pregnancy
Don't Stress. It's because it is directly connected with your reproductive system. Prolonged periods of stress can weaken your reproductive system and reduce the chances of Pregnancy.
Women should engage in Islamic prayers right after their periods are over. During these periods, women are often depressed and stressed. It cannot be easy to concentrate during that time.
When you are connected with Almighty Allah SWT, your chances of a safe and successful pregnancy are bound to increase several folds. That's a given and natural.
Therefore, at any cost, you need to avoid stress and anxiety. Make sure to connect with nature as much as possible.
Take a stroll early in the morning across the park. This Dua will make that process easy and natural.
Sleep with a clean and healthy mind. Before going to bed, you need to pray to Allah Miyan to help you with your situation.
Beg for his mercy and ask Him to listen to your prayers so he will send blessing into your life as a healthy pregnancy.
Another awesome thing you can do to keep stress at bay is to walk barefoot on wet soil.
This powerful grounding practice will keep stress levels at bay and prevent your mind from wandering here and there.
All this while, you need to have faith that sooner or later, your dua will be answered, and Allah SWT will bless you with a baby in your belly.
If you want a baby boy in your life, then read Dua During Pregnancy For a Boy.
Our Other Helping Article:
Important Benefits of Ayatul kursi (English and Hindi)
Conclusion
Many women start panicking if they cannot get pregnant as soon as they had hoped. Suppose that is also the case with you.
Then, first of all, you need to stop stressing out and panicking because this dua can solve your problem.
Other than that. Suppose you have had a miscarriage and are also feeling fearful this time. Then you have to need to perform this dua for successful Pregnancy every single day.
In Sha Allah, you will get conceived with a beautiful child, and your Pregnancy will be smooth like a breeze. You will not run into any trouble, either.
If you have any concerns or questions or want solid advice regarding how to conceive naturally and safely, you need to contact us.
Talk to our Molvi Saab and share your problems to get the best solution.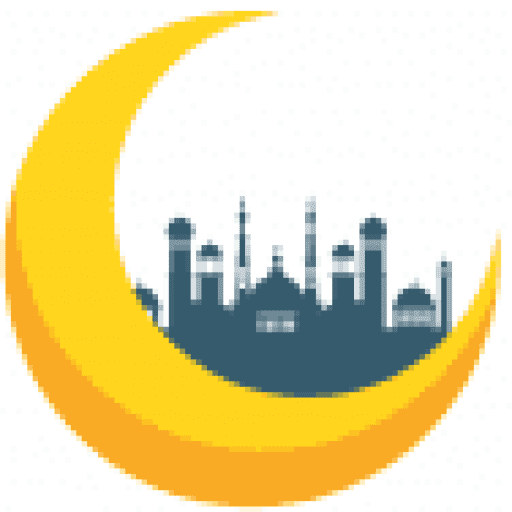 Maulana Ashif Ali Khan is considered one of the best Islamic scholars in the world. This Report is supported by Google search results when searching for the "Best Maulana in the world." With 35 years of experience solving various life problems, he has successfully resolved thousands of cases. Success stories of individuals he has helped can be found on our Instagram account.