Assalamu'alaikum warahmatullahi wabarakatuh to all our beloved Islamic nuskhe readers. Today's topic is very serious: Dua for Visa Approval Immediately in the Proper Quranic Halal Method.
Wazifa for Visa is a very famous wazifa all over the internet. Too many Islamic Nuskhe readers have already approved their visas through this.
Our best advice is to read this article properly and not skip any parts for better understanding. Also, Have patience.
"Indeed, allah is with those who patiently endure"

(Quran 8:46)
Everyone desires to be successful and have a well-paying career. We know that going abroad and working high-end jobs is an excellent way to provide for your family.
However, getting your visa approved is lengthy, and not everyone can stick to it for that long. It can take months before you hear the good news that your application for a visa has been approved.
Unfortunately, despite everything in your favor, your visa seems to get rejected every time. If you can relate to that situation, then don't worry.
With the help of this Islamic wazifa, the next time you apply for a visa, it will surely get approved. Do you want to know how to perform this wazifa? Keep reading.
If you want anything from Allah (SWT) then read "Dua to get what you want From Allah SWT"
Follow Some Guidance Before You Start This Dua:
Start any dua or wazifa after the process of 

"wuzu,"

 because purity is the central aspect of Islam.

Be patient, do not panic, and perform this dua with complete faith in almighty Allah Tallah. 

"Allah is with those who have patience."

 (2:153)

Before beginning, drink 

"Zamzam"

 water and keep your face towards the 

"Qibla Sharif."

Women don't perform this dua or wazifa during their menses.

Perform the

"Niyyah"

given with all your heart and sincerity.

"Call on Allah while having a full conviction that He will answer, and realize that Allah does not answer the dua that proceeds from a heedless, inattentive heart."

(AT-Tirmidhi)
Here Is Dua For Visa Approval Immediately:
"Rabbi a'inni wa-la tu'in 'alayya, wa-nsurni wa-la tansur 'alayya, wa-mkur-li wa-la tamkur alayya, wa-hdini wa-yassir-il-huda ilayya, wa-nsurni 'ala man bagha 'alayya" (Sunan Ibn Majah, 3830)
Meaning: "My Lord, help me and do not help against me, and give me success and do not give victory over me; prepare for me and do not prepare against me; guide me and facilitate guidance for me; give me success over those who disobey against me."
Procedure To Perform

Dua For Visa Approval Immediately

:
Perform proper Wudu.
Recite 2 Rakat Nafl salah and Takbir (Allah is Great)
Perform "Tauba-e-istiGfaar" (to Remove your Sins).
Finally, recite this Dua For your Visa Approval ""Rabbi a'inni wa-la tu'in 'alayya, wa-nsurni wa-la tansur 'alayya" 350 Times.
Perform this Dua regularly for 15 days. After that, reapply for a visa. This time your Visa will get approved.
If you need any help or want quick and effective results in no time, then you can also contact our Molana Ashif Ali khan on WhatsApp.
You must have complete faith; even prayers don't work without trust. If you have full confidence that Allah Miyan is always standing by your side, then even the most challenging and impossible-looking tasks become a piece of cake.
Before you even realize it, everything will start to align in your favor. Next thing you know, the good news will knock on your door.
Niyyah (Intention that you are performing Dua)
"AR-RAHMAN" there can be no one else in this world who is more merciful than you, and today I am performing Dua for visa approval immediately.
"AL-AZEEZ," why so many problems are coming my way? Please guide me with your holy spirit and make my path clearer because "AL-AHAD" only your light can bring peace and easiness into my life.
Five Simple Steps To Make The Process of Visa Approval Faster:
Perform "Sayatul Hajat," wazifa mentioned.
Recite "Tasbeeh" and "Darood sharif" as much as possible

Praise Allah (SWT) by saying- 

"Allahumma lakal-hamd. Antal-hayyu Al-Qayyum.

"

Namaz is an obligatory prayer you should perform five times daily and is considered the second pillar of Islam.
Ask for forgiveness and make "Tawba" regret their sins.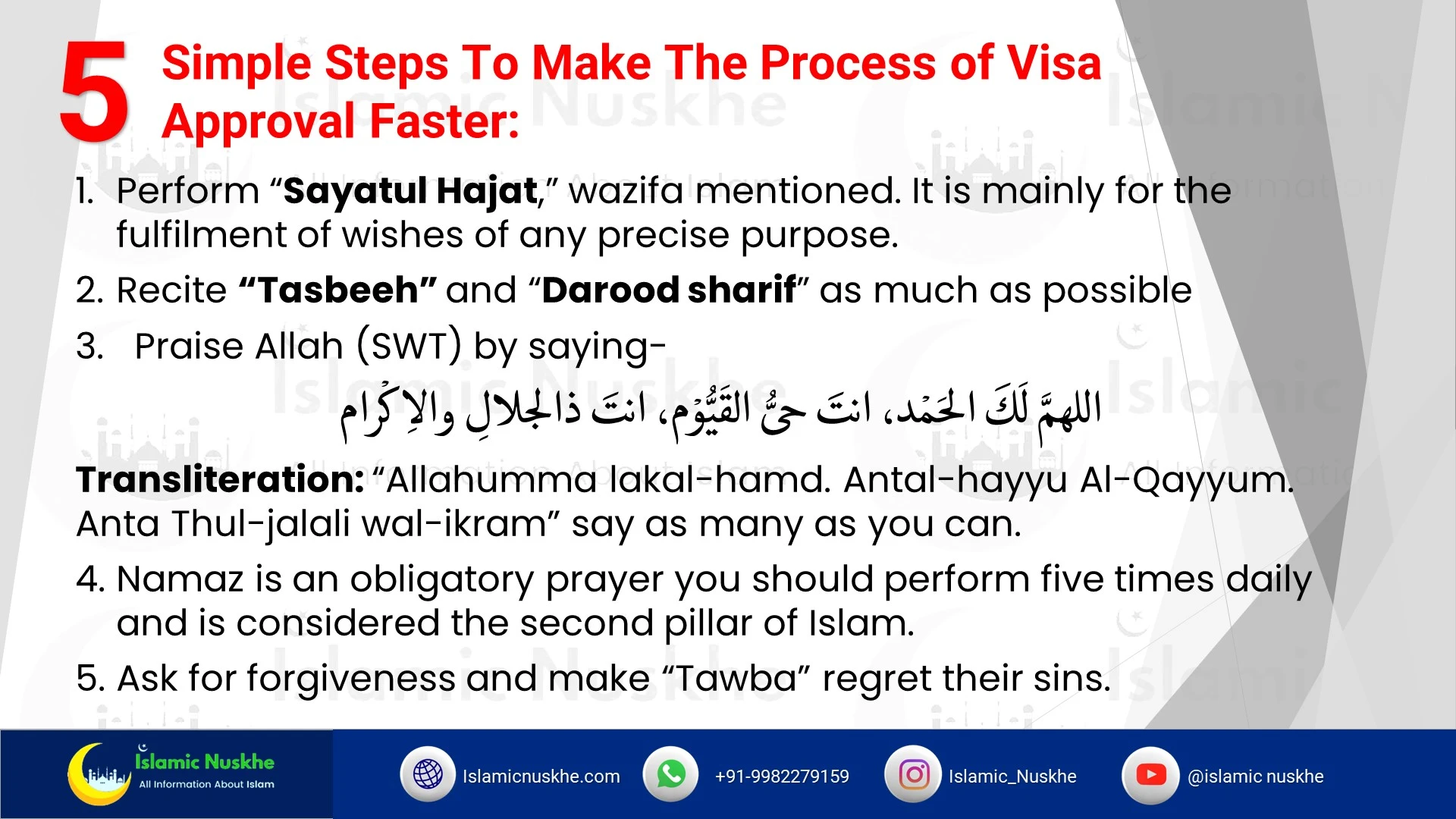 Hadith About Visa Approval Immediately
Hadith books have multiple lessons for Muslims to follow. If you need hadith for your visa application, we will also share it with you. Remember you recite this hadith after fajar and isha salah for better results.
"There is no deity but Allah, the Most Forbearing, the Ever-Generous. Glory be unto Allah, Lord of the Great Throne. Praise be to Allah, Lord of all the worlds.

I ask you for those things that bring about Your mercy and complete forgiveness; [for] a full portion of every righteous act, and safety from every vice.

Do not leave any sin of mine except that You forgive it; any anxiety except that You relieve it; nor any need of mine that pleases You accept that You fulfil it, O Most Merciful of those who show mercy."

(Tirmidhi)
Watch This Video About Visa Approval Immediately:
Our Other Helping Dua:
Ya Hayyu Ya Qayyum Birahmatika Astaghees (Meaning and Benefits)
6 Signs That Your Dua Is Accepted By Allah (SWT)
Conclusion
In this article, we cover our best knowledge with you. Our main vision is to help our beloved Muslim brothers and sister. If you need help, feel free to contact us on what's app.
The visa application is a technical and lengthy process. Often, we are stuck with the technical stuff and need help to look beyond the physical. You have to know that success in life doesn't come only with hard work and logic.
You also need equal parts luck and Allah Tallah's blessings on your side to mark an endeavour as genuinely successful.
Know that everyone deserves success. If your idea of success is to work with a big company in a foreign land, then you should be proud of your choice. There is nothing wrong with wanting to achieve what your dreams are.
By turning to Islam, you can make all your desires come true. But make sure you have complete faith in whatever dua or wazifa you perform.
If despite all your efforts, your Visa is not a success, you need to have a word with our Molvi Ashif Ali Khan Saab Ji. Some energy blockage may be keeping the luck out of your life.
Note: Allah (SWT) will praise you. If you make this dua known to more and more people because if you pass on this, they will benefit by doing it, and maybe it can change their life, then it is obvious you will also get the reward for the good deed (sadaqah).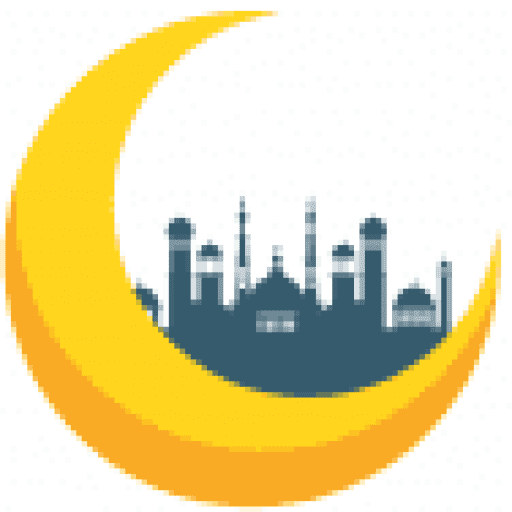 Maulana Ashif Ali Khan is considered one of the best Islamic scholars in the world. This Report is supported by Google search results when searching for the "Best Maulana in the world." With 35 years of experience solving various life problems, he has successfully resolved thousands of cases. Success stories of individuals he has helped can be found on our Instagram account.