Aslam Walikum ajj hum apko duniya ki sabse taqtwar dua dene jaa rhe hai. Jisse app har mussibat se bach sakte hai yeh Musibat Se Bachne Ki Dua Quran se li gai hai or yeh muqamal torr par bilkul halal hai.
Har qisam ki pareshani se bachne ki dua Jyada articles internet p english m hote hai. Or hum jante hai ki bahut sare log kafi tarah ki badi badi mushkil or museebat se joojh rahe hote hai.
Lekin har kisi ko english utni achi tarah nahi ati. Isliye hmare blog par humne koshish ki hai ki apko urdu main achi information or knoweldge mil sake.
Mushkil har insane ki zindagi main aati hai. Asa shayad hi koi insaan hoga jisne apni zindagi m mushkeelo ka saamna na kiya ho.
Lekin kabi kabhi mushkilo ka kad itna bada ho jata hai ki insaan akela uske samane chota pad jata hai.
Shayad aap shadi se judi kisi tarah ki museebat se joojh rahe hai. Ya ho sakta hai ki aap zindagi main career se related kisi problem se lad rahe hai. Museebat kafi tarah ki ho sakti hai.
Khaskar agar mushkil or musibat k waqt par apke sath koi na ho, to majboot insaan bhi kafi bar haar manne k liye majboor ho jata hai.
Har musibat se bachne ki Dua or Har qisam ki pareshani se bachne ki dua apko isi ke bare me himmat deti hai aur Allah ki pannah mangne mai apki madad kregi.
Nabi kareem sallallahu alaihi wasallam ne ye bhi Farmaya hai "Jb allah kissi insan se muhobbat karta h to uske Imtihaan leta hai or jo allah se raaji hota hai to Allah usse raaji hota hai"

(Sahih Al-Bukhari)
Hum yeh Mashwara dete hai ki pure article ko Gor se padhe or bataye gae tariko ko amal mai lakr app jo chae wo hasil kar sakte hai.
jo log allah par imaan rkhte hai , 5 waqt ki namaz karte hai or dil se Dua krte hai unke liye zindagi ki badi se badi dikkat bhi hila nahi pati.
Wo log araam se museebaato ka samna kar lete hai or unhe pata bhi nahi chalta.
Agar aap humare blog ko follow karte hai to apko bahut sare chote or bade tareeke or nuskhe pata chal jayege. Har musibat se bachne ki dua un m se ek hai.
Har musibat se bachne ki dua
Dua:- "Wa qur Rabbi a'oozu bika min hamazaatish Shayaateen, Wa a'oozu bika Rabbi ai-yahduroon"

Translation:- "O, my Lord! I seek refuge with Thee from the suggestions of the Evil Ones, And I seek refuge with Thee O my Lord! Lest they should come near me."

(Quran, 23:97-98)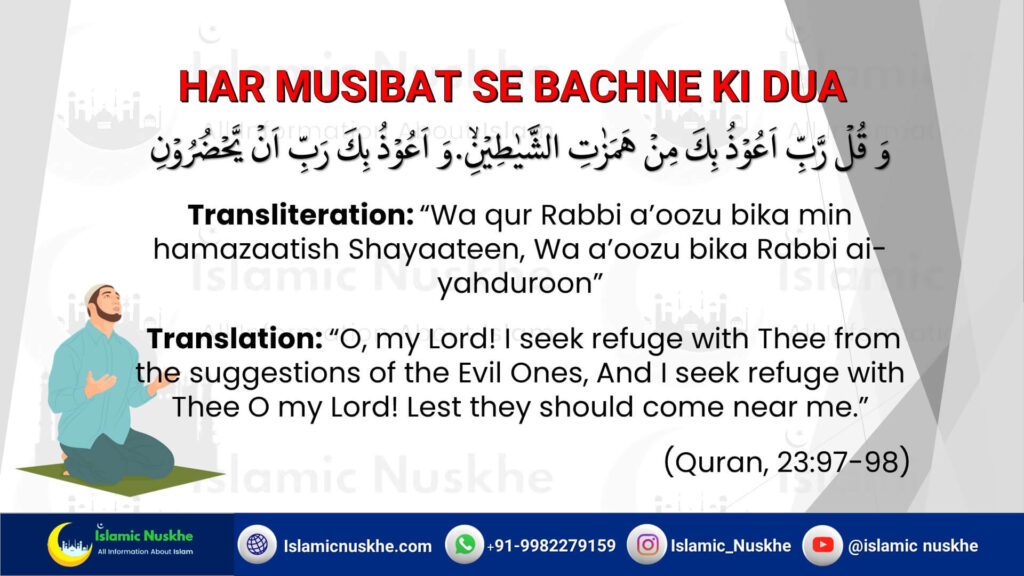 Musibat se nikalne or talne ki dua
Dua:-"Wa Ayyooba iz naadaa Rabbahooo annee massaniyad durru wa Anta arhamur raahimeen"

Translation:-And (remember) Job, when He cried to his Lord, "Truly distress has seized me, but Thou art the Most Merciful of those that are merciful."

(Quran,21:83)
Dua ko karne ka Tarika:
Dua karne se pehele sahi neeyat jaruri hai, apki dua ko Qubool karne k lie apka Irada Allah Raheem k liye imandar hona chiye.
Dua karne se pehle wuzu karna jaruri hai, yeh khud ki safai aur allah k sath rishta kayam karne ka ek halal tarika hai.
Iske baad ek Saaf jghe par apni dua ki shuruwat kare jaha app ko koi pareshan na kar sake.
Dua ki shuruwat Allah (SWT) k khoobsurat naam lekr kare jaise "Bismillaahir Rahmaanir Raheem" isse app Allah Tallah ki mohabbat or raheem ko hasil karenge.
Ab uper di gai dua ko 100 martaba zabani padhe khuloos dil k sath.
dua padhne k bad apne hath uthae or ye kahe "O Allah mujhe Zindagi k Tamam mushkilo se nikalne ki takat de or mujhe tamam nuksano or buraiyo se bacha."
Apni dua mai Allah k lie shukurguzari ka muzahira kare isse apka Allah (SWT) par bharosa Jahir hoga.
Prophet Muhammad (SAW) par, "Darood" bhej kar apni dua khatam kare.
kissi b namaz k pehle ya bad is rasam ko 15 din tak aadha kare aur sabar karna jaruri hai ki allah apki duao ka jawab sahi waqt par aur behtareen tarike se dega.
Agar apko is dua ko qabul karne mai koi dikkat ya pareshani aa rahi hai to app Hmare "Molvi saab Ashif Ali khan" ki bhi madad le sakte hai.
Hmari website se contact kare or molvi saab se bat kare. Ap apni zindagi ki sabhi probems unke sath share kar skte hai. Unse bat karek apko apni dikkat ka hal milega.
READ Rishta Todne Ki Dua
Har qisam ki pareshani se bachne ki dua
Dua:-"Qaala 'Eesab nu Maryamal laahumma Rabbanaaa anzil 'alainaa maaa'idatam minas samaaa'i takoonu lanaa 'eedal li awwalinaa wa aakhirinaa wa Aayatam minka warzuqnaa wa Anta khairur raaziqeen"

Translation:-"O Allah our Lord! Send us from heaven a table set (with viands), that there may be for us – for the first and the last of us – a solemn festival and a sign from thee; and provide for our sustenance, for thou art the best Sustainer (of our needs)."

(Quran,5:114)
Dua ko karne ka Tarika
Wuzu se Shuru kare aur phir dua k lie ek saaf or sukoon jaghe ki talash kare.
Dua krte waqt qible ki taraf moo kare isse Allah Tallah se taluq badhane mai madad hoti hai.
Uske baad apko Quran ki sabse Taqtwar Ayat al-Kursi ko padhna hai jo ki Surah al Baqarah ki Ayat no. 255 hai
Ayat al-Kursi - اللَّهُ لَا إِلَٰهَ إِلَّا هُوَ الْحَيُّ الْقَيُّومُ ۚ لَا تَأْخُذُهُ سِنَةٌ وَلَا نَوْمٌ ۚ لَهُ مَا فِي السَّمَاوَاتِ وَمَا فِي الْأَرْضِ ۗ مَنْ ذَا الَّذِي يَشْفَعُ عِنْدَهُ إِلَّا بِإِذْنِهِ ۚ يَعْلَمُ مَا بَيْنَ أَيْدِيهِمْ وَمَا خَلْفَهُمْ ۖ وَلَا يُحِيطُونَ بِشَيْءٍ مِنْ عِلْمِهِ إِلَّا بِمَا شَاءَ ۚ وَسِعَ كُرْسِيُّهُ السَّمَاوَاتِ وَالْأَرْضَ ۖ وَلَا يَئُودُهُ حِفْظُهُمَا ۚ وَهُوَ الْعَلِيُّ الْعَظِيمُ
Translation:- "Allahu laaa ilaaha illaa Huwal Haiyul Qaiyoom; laa taakhuzuhoo sinatunw wa laa nawm; lahoo maa fissamaawaati wa maa fil ard; man zal lazee yashfa'u indahooo illaa bi-iznih; ya'lamu maa baina aydeehim wa maa khalfahum wa laa yuheetoona bishai'im min 'ilmihee illaa bimaa shaaa'; wasi'a Kursiyyuhus samaawaati wal arda wa laa Ya'ooduhoo hifzuhumaa; wa Huwal Aliyyul 'Azeem"
Phir Isha ki Namaz k bad uper di gai dua ko 100 martaba bolna hai.
Apse jo bhi galti hui ho to uske lie teen bar Astaghfirullah khekar maafi mange.
Inshaallah ager app yhe dua sache dil se Allah par yakin ke sath krenge toh apko isme Jaroore Kamiyabi milegi. Iss Dua ko 15 din tak musalsal kre. Ager apko kisi bhi trha ki maded chiye hai toh app humare Molana Ashif Ali Khan ko Whats App par Contact kar skte hai.
Conclusion
Is article mai ap ko aesi dua di jaegi jo ap ki zindagi ki har mushkil ya pareshani ko dur karne mai ap ki madad kregi.
Bus har waqt us khuda ko yad rakhe or us par bharosa rakhe kyunki Jab aap ko Allah Miyan ka ehsaas hota hai, to aapko apne aap hi har tarah ki musibat se ladne ki himmat mil jati hai.
Isse apke zindagi main is wqt ki or ane wale wqt ki sari dikkate door ho jaegi. Agar ap har waqt pareshan rahte hai to apko bhi is dua or wazifa par amal karna chahiye.
Ye dua apko har tahal ki dikkato se zindagi main mehfooz rakhegi.
Agar in sab ke bawjood bhi apko zindagi m koi dikkat ya pareshani aarahi hai to ap hamare Molvi Ashif Ali ji se baat kr sakte hai. Wo apko har musibat se bachne ka sbse behatareen tareeka batayege.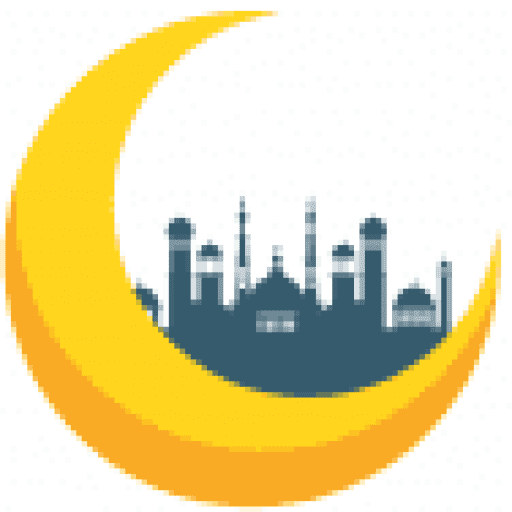 Maulana Ashif Ali Khan is considered one of the best Islamic scholars in the world. This Report is supported by Google search results when searching for the "Best Maulana in the world." With 35 years of experience solving various life problems, he has successfully resolved thousands of cases. Success stories of individuals he has helped can be found on our Instagram account.