Assalamu'alaikum warahmatullahi wabarakatuh To my brothers and sisters, Today We give you 8 Important WAYS TO MAKE YOUR DUA MORE EFFECTIVE.
We know we all struggle with the same sorts of everyday issues.
Even when we make every effort to solve a situation, there are times when we can't seem to break free.
And one of us begins to believe there is no way he can ever turn things around.
One thing, though: Dua is a powerful tool for rescuing you from the depths of despair.
Dua is a crucial activity we must perform to find answers to all our difficulties.
For many, Dua is therapeutic because it helps them feel at peace and relieved by the knowledge that even when no one else hears them,
Allah does, and He responds to their prayers by granting them their hearts' desires.
Allah promises, "Call upon Me, and I will answer you."

(Quran 40:60)
Throughout the life of Prophet Muhammad (SAW), he emphasized the importance of praising God, seeking His pardon, and showing gratitude via the practice of dua.
If you want to make someone you love deeply realize your love, then you can do so with the help of this dua to make someone fall in love with you.
How often do you ponder the causes of your difficulties?
If you're having trouble connecting with Allah, maybe you need a little trouble in your life.
To become closer to Allah, you utilize strategies to increase the efficacy of your dua in answering that prayer.
If you need any solution or help, contact our Molana Ashif Ali Khan on the WhatsApp.
This post is meant to give you time to think about eight ways to make your Dua effective in Islam so that you can prioritize your relationship with Allah (SWT) despite your hectic schedule.
If you are praying to Allah Taala to get your love and want that prayer to be very effective, please recite this Dua for love back.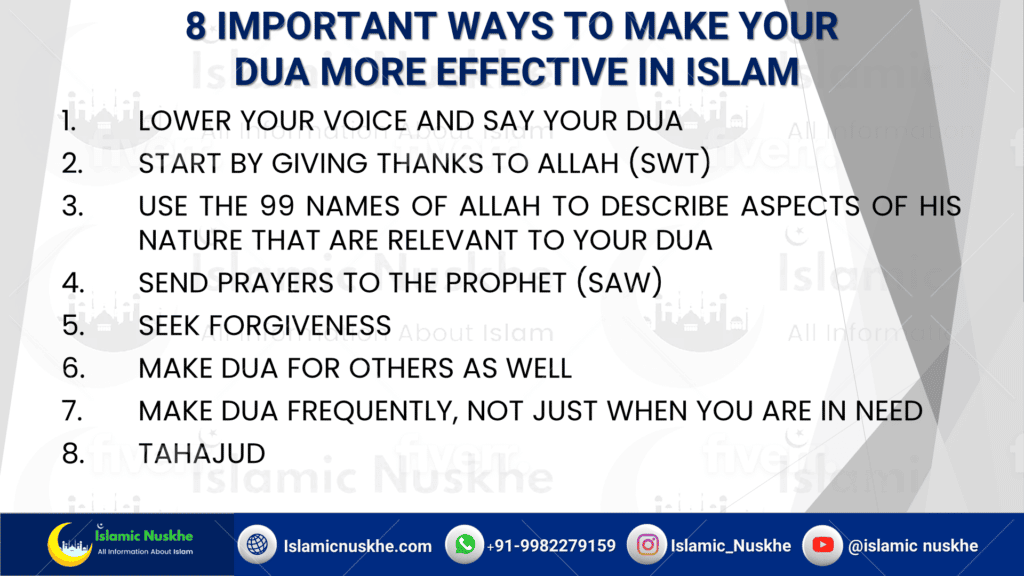 Read: 6 Signs That Your Dua Is Accepted By Allah (SWT)
1. LOWER YOUR VOICE AND SAY YOUR DUA
In Islam, praying aloud is discouraged; however, making Dua in a low voice is one of the most powerful ways to increase your prayers' efficacy.
When communicating with Allah through dua, remember that He is the One who hears everything.
According to Abu Musa Al-Ash'ari (ra), "whenever we ascended a high place, we used to say Takbir in the company of the Prophet (saw) on his journeys" (in a loud voice).
According to the Prophet (saw), "O people! You are not praying to a person who cannot hear or see your pleadings; instead, you are praying to the All-Hearing, All-Seeing One. [Sahih Muslim, 2704a]
The preceding hadith is a lovely reminder that we should not shout our Duas to Allah, who is always nearby.
Remember your Lord by your tongue and within yourself.
Humbly and with awe, without loudness in words, in the morning and the afternoon, be not of the negligent, as Allah commanded. (Quran 7:205)
This is true at home and when praying at a public mosque. It's considerate to keep noise levels down.
The Prophet (saw) would often shed tears when reciting Dua, so it's natural for us to well up with emotion now and then, yet we must remember to keep our voices down while we pray.
2. START BY GIVING THANKS TO ALLAH (SWT)
Before we pray to Allah, we should give Him the adoration He is due.
Sit down after praying and give Allah the thanks He is due before making a call to Him.
Start your Dua with a call to Allah (SWT) in the way we've been taught to do by Muhammad (peace be upon him) (PBUH).
As related by Amr bin Malik Al-Janbi, Fadalah bin 'Ubaid reported that the Prophet (SAW) had instructed:
"When one of you does Salat, then let him begin by expressing appreciation to Allah and praising Him…" [Jami at-Tirmidhi, 3477].
Gratitude and thanksgiving to Allah should be a constant state of being for us. In light of what Allah has revealed, Just as you remember me, I will remember you and never be ungrateful." (Quran 2:152)
3. USE THE 99 NAMES OF ALLAH TO DESCRIBE ASPECTS OF HIS NATURE THAT ARE RELEVANT TO YOUR DUA
Does Allah's 99 names leave you with a favorite?
When the Messenger of Allah overheard a man praying:
"O Allah, I ask Thee, I bear witness that there is no god but Thou, the One, He to Whom men repair.
Who has not begotten, and has not been produced, and to Whom no one is equal," he responded:
"You have supplicated Allah using His Greatest Name when asked with this name He gives, and when supplicated by this name He answers." [Ibn Abi Dawud, 1493]
The following are only a few of the various names by which Allah may be addressed.
Remember to give your Dua the proper respect by using the right Name. To seek mercy, say Al-Ghafur; to seek assistance, says Al-Wakil.
Allah's names are among the loveliest in the world. Hence, it is by them that you should invoke His aid. [Quran, 7:180]
There are a few different methods to call upon Allah by His Name, and we've provided examples of each below:
YA WADOOD! I beg You to elevate Your love above me and my partners in my heart.
AL GHAFFAAR! Wash away the sins that reside deep within my heart.
YA RAHMAN! Please have mercy on me and release any limiting thoughts from my mind so I may float in the air.
YA MUSAWWIR! Please give me a sense of direction so I can figure out why I'm in this world (this Dunia) and do something worthwhile with my time here.
4. SEND PRAYERS TO THE PROPHET (SAW)
Incomplete is the act of praying (Dua) without first offering salutations to our dear Prophet Muhammad (SAW).
In Islam, praying to Allah's last Prophet (SAW) is obligatory for your Dua's efficacy. According to tradition, a prayer to Allah (Dua) offered without first praying to the Holy Prophet (SAW) is never heard by God.
Such prayers, known as Dua, never make it to His Majesty because they get lost in the clouds. This is also a form of Hadith narration.
Then he can pray whichever he wants after sending Salat upon the Prophet (SAW). [Jami' at-Tirmidhi, 3477]
5. SEEK FORGIVENESS
Guilt regarding One's actions is another Islamic practice that can help make Dua more powerful.
Be sure to seek Allah's pardon. To maximize the efficacy of your Dua, you should give it your all and use the most practical means possible.
The precise wording of a Dua can have a life-changing effect on the life of a believer.
If you want to feel even worse and less productive, tell yourself things like, "ya Allah, I'm sorry I didn't pray."
Make Dua instead by forming the words "ya Allah" (God), "I want to pray," and "I need Your help."
I heard the Prophet of Allah (SAW) say, "Allah the Almighty said:
'O son of Adam, so long as you call upon Me and ask of Me, I shall forgive you for what you have done, and I shall not mind,'"
This is on Anas's authority (RA). Oh, Adam's son, even if your crimes piled up to the skies and you begged Me to forgive them, I still would.
If you, O son of Adam, would come before Me with crimes as great as the earth and then turn and look at Me without attributing a partner to Me, I would grant you forgiveness as great as the earth itself. (Hadith Qudsi, 40)
6. MAKE DUA FOR OTHERS AS WELL
Don't merely say, "Allah help all the Muslims," at the end of your prayer for the Muslim community.
Instead, be detailed while explaining the situation to Allah. Just ask Him to help the Rohingya, the people of Syria, the people of Gaza, etc.
To do so, it helps to know what's going on in the worlds of our brothers and sisters. So, keep your eyes open and say some prayers for everyone.
There is no believing servant who supplicates for his brother behind his back (in his absence) that the Angels do not say:
"The same be for you too," as narrated by Abu Dharr from Allah's Messenger (SAW). [Sahih Muslim, 2732a]
Practical Dua requires making room for others. Whoever loves Allah's creatures is loved by Allah. Allah will only listen to your prayers if you are God to His people.
We can count on Allah's support because we are good people. (Quran 29:69)
7. MAKE DUA FREQUENTLY, NOT JUST WHEN YOU ARE IN NEED
The Prophet Muhammad (SAW) was quoted by Abu Hurairah (RA) as saying:
"Whoever hopes that Allah might react to him through affliction and sadness, let him supplicate abundantly when he is at peace." [Jami at-Tirmidhi, 3382]
Assume you are looking to purchase a new computer. Or perhaps your young child is having yet another tantrum.
Or you may have a brief report due at the office tomorrow. Each of these three scenarios requires us to rely on ourselves or others.
We will consult with peers to determine which laptop is best and check consumer ratings and feedback.
If we don't know how to handle a child's tantrum, we study parenting blogs or ask other parents for guidance.
To meet our deadline, we down some more caffeine forewent eating and worked through the night to complete the report.
We forget that Allah was the One who led us to that lovely laptop, who helped us soothe the youngster with cookies, and who ensured that we finished the report on time.
He has control over everything. Think about making Dua before proceeding with your usual course of action the next time you are confronted by one of the countless routine situations that make up your everyday life.
8. TAHAJUD
In Islam, Tahajud is regarded as the most important step in making your Dua effective. When you pray Tahajud, Allah is very pleased. Thus your Duas will be heard without fail.
The sincerity of your desire for whatever it is that you haven't prayed tahajud for can be gauged by asking yourself this question:
Tahajud is a challenging act to perform. Midway through the night or early morning hours, you must get up to perform Wudu and pray Salah.
Even though it pains you, recite the Tahajud supplication so that Allah accepts your Duas.
To make things easier, Allah says, "For indeed, with difficulty ease." (Quran 94:5)
People may make as many or as few duas as they like because Allah imposed no such restriction.
Demonstrate your complete reliance on Allah by praying continually. These are the top spots and times of day to say your prayers.
The Dua is answered when it rains.
On the occasion of waqoof e Arafat, on the day of Arafa.
If a traveler prays on the road, their Dua will be heard.
During the last ten or so nights of the holy month of Ramadan.
When was the night of Layla tul Qadar?
Our Other Helping Article:
Ya Hayyu Ya Qayyum Birahmatika Astaghees (Meaning and Benefits)
Powerful Duas For Solving All Problems (Immediate Help From Allah)
Surah Rahman Benefits | Surah ar Rahman Fazilat
FREQUENTLY ASKED QUESTIONS
HOW DO YOU MAKE THE PERFECT DUA IN ISLAM?
If you want your Dua to be accepted by Allah, you must perform two Rakat Salah first. Raise your voices to Him and invoke His glorious Name. If you pray to Allah with sincerity, He will hear you.
IS THERE ANY DUA THAT ALLAH ACCEPTS QUICKLY?
It was related by Abdullah ibn Amr that the Prophet (peace and blessings of God be upon him) had said:
"No petition is quicker to be answered than a supplication on behalf of one absent." [Jami at-Tirmidhi 198]
MAY I CONCEIVE OF DUA IN MY MIND?
Indeed, you can perform the supplication (Dua) in your mind. There is no difference in the efficacy of a Dua depending on whether it is spoken aloud, inaudibly, or mentally conveyed.
Allah not only hears everything, but He also records every thought and deed to show us on the Day of Judgment.
WOULD MY OWN WORDS BE ACCEPTED FOR DUA?
Because Allah understands every language, you can pray to Him in whatever way feels most natural to you.
In the same way, your language and words originate in your hearts, and so must your prayers to Allah.
May we ask if ALLAH ACCEPTS DUA IN ENGLISH?
A conversation with Allah is possible in every language. Dua is permitted before, during, and after Salah.
However, duas said before, during, or after Salah must have a basis in the Quran or Sunnah. Any language, including English, may be used in a post-Salah dua.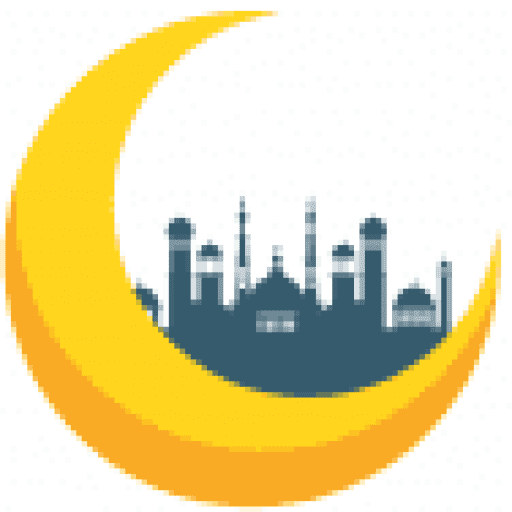 Maulana Ashif Ali Khan is considered one of the best Islamic scholars in the world. This Report is supported by Google search results when searching for the "Best Maulana in the world." With 35 years of experience solving various life problems, he has successfully resolved thousands of cases. Success stories of individuals he has helped can be found on our Instagram account.