Assalamu 'alaikum wa Rahmatullahi wa Barakatuhu, may peace and blessings be upon all of you. This article offers a very powerful dua for love and Attraction.
Everyone desires to experience the warmth of love and affection in their life. But the most enchanting feeling is when you find that special person and they reciprocate your feelings.
But one of the most distressing feelings is when you find yourself fascinated with someone who doesn't feel the same way.
Are you struggling with these emotions? Then you need Islamic Dua for Love, and Attraction is a powerful way to manifest love emotions in your life.
We advise reading the whole article with concentration because it can help you seek Allah's (SWT) guidance and blessing to gain the attention and love of the person you desire.
Performing these Islamic Dua for Love and Attraction can help you to create a positive and loving energy around you, which can help to attract the love and affection you seek.
It is essential to perform these duas with complete faith and sincerity towards Allah (SWT) and the belief that He will guide you toward a path of love and happiness.
Let us help you achieve peace and happiness through the power of dua and Surah.
Strong dua for love and Attraction
Dua:-"Rabbi inni lima anzalta ilayya min khairin faqir"

Translation:- "My Lord, indeed I am, for whatever good You would send down to me, in need."

(Quran,28:24)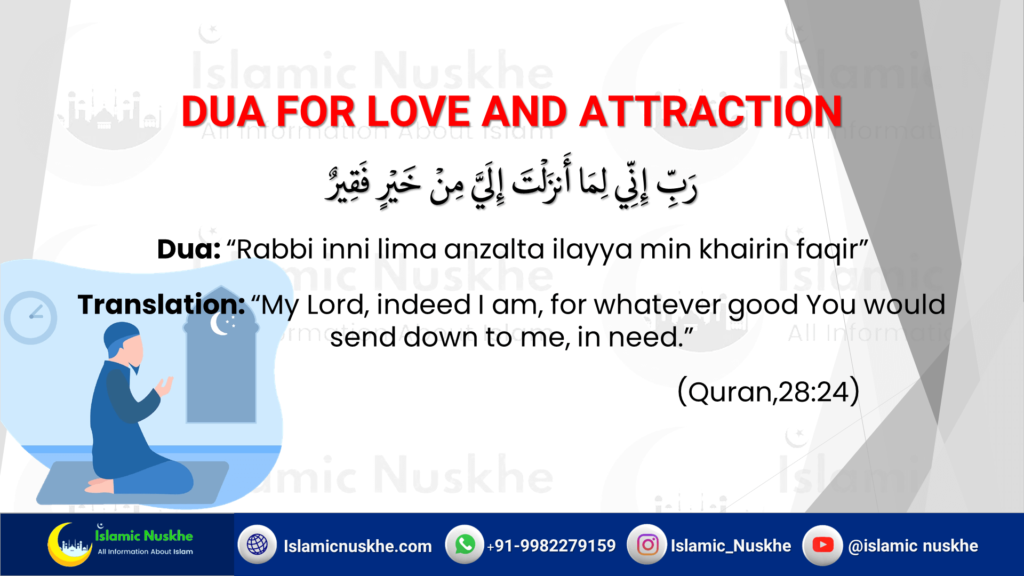 Method to perform this Dua:
Make ablution (wudu) to purify your body and attain more focus before performing dua.
Choose a quiet place where you can do your Dua without distractions.
Now Express gratitude to Allah and send blessings upon the Prophet Muhammad (Sallallahu Alayhi Wasallam).
Next, take some Zamzam water, open the first chapter of the Quran, and read the verses of Surah Al-Fatiha.
Sometimes dua is not accepted due to past committed sins, so ask for forgiveness from Almighty Allah by reading this dua-"O Allah, I ask You for well-being in this life and the Hereafter. O Allah, I ask You for forgiveness and well-being in my religion, worldly affairs, family, and wealth. O Allah, forgive, have mercy on, protect, and admit me to Paradise."
After reading this, recite the dua mentioned above at least 200 times with complete sincerity and determination.
End the dua by sending Salawat upon Prophet Muhammad (SAW) and his family.
Perform this dua for 15 days regularly, Believe in the power of Allah to answer your dua, and have patience in waiting for the response.
If you feel nervous about performing a dua or need help finding the right Surah for love, you can always reach out to our expert, Molvi Ashif Ali Khan.
We understand that some people may feel nervous about performing a dua, and our Molvi Saab is here to help you overcome your worries and concerns.
Powerful Surah's for love and Attraction
With the recitation of these surahs given below, you can achieve love and Attraction in your life:-
Surah Al-Anfal (Quran,Chapter 8)
This Surah can be recited for seeking Allah's help and guidance in overcoming obstacles in one's love life.
Surah Ya-Sin (Quran, Chapter 36)
This Surah is known for its spiritual and emotional power and is often recited for seeking Allah's blessings and guidance in love and relationships.
Surah Al-Falaq and Surah An-Nas (Quran, Chapter 113,114)
These are the last two surahs in the Quran and are known as the "Mu'awwidhatayn" or "Verses of Protection". They can be recited for seeking Allah's protection and guidance against negative influences or harm in one's love life.
Surah Al-Baqarah (Quran, Chapter 2)
This is one of the longest surahs in the Quran and is also known for its various power. It is believed to have protective qualities and can be recited in all aspects of life, including love and relationships.
Frequently Asked Questions
Is there a Dua to make someone love you?
There are many Dua in the Holy Quran to make someone love you. But We tell you powerful Dua to make someone fall in love with you. Click on this link.
Is there any Dua for love Success?
If you want your relationship to be healthy and prosperous, you will recite this dua Al-Mumtahanah for one week after Zuhar (Duhr) (ظہر ) Noon Prayer. This is the most powerful dua for success in love.
How can you make love to someone's heart?
If You want to make love in someone's heart, it is no easy task, but we help you provide our Powerful dua. You will read this Dua To Create Love in Someone's Heart.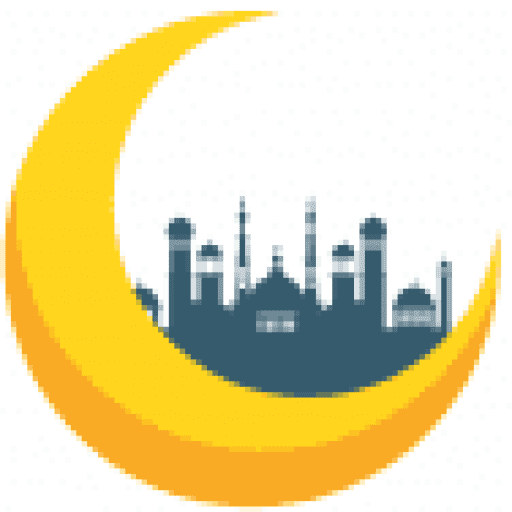 Maulana Ashif Ali Khan is considered one of the best Islamic scholars in the world. This Report is supported by Google search results when searching for the "Best Maulana in the world." With 35 years of experience solving various life problems, he has successfully resolved thousands of cases. Success stories of individuals he has helped can be found on our Instagram account.